Farm Dinner
Join us September 9th for an evening of home-made, home-grown goodness!  We're harvesting the fall's finest crops and lovingly preparing them into a 5-course dinner for you to savor.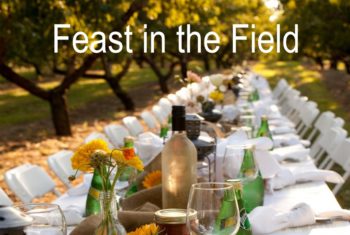 Come and experience the farms and vineyards that are part of our local community and experience the farm in a new way.
Glass in hand with a signature cocktail and some tiny bites, stroll through the orchards and the vineyard, guided by 3rd generation farmer Jonathan Godfrey.  Hear how he and his family came to create Olde Carthage Farms, the only organic berry farm and vineyard in Moore County.
Slowly make your way back to the long community tables near the pond and historic log cabin where the candles and wine glasses glimmer in the late evening sun.  Then take a deep breath and relax as you settle into a lovely five-course meal expertly prepared by five talented Chefs.
Join us at this special Farm-to-table dinner where dining in the field is an experience that lets you connect with old friends and people you have just met where we celebrate our local farms and farmers and reconnect with the source of our food.
Support your local farmer and the Sandhills Farmers Market in Pinehurst.